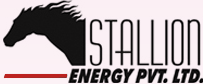 Career
Growth With Stallion Energy
The Ladder To Success Is Parked Here :
We recognize that the quality, motivation and performance of our employees are the key factors in achieving our success.
" Our employees are the most valued assets of our company, essential participants with a shared responsibility in fulfilling our Mission "
Accordingly our HR Policies and practices are built upon -
Dedication to every employee in reaching his or her full potential in both performance and reward.
Commitment to diversify, equal opportunity and fair treatment.
We will continuously strive to form an organizational structure and culture, which will promote employee involvement, open communication, team work & cooperation.
All our evaluation programs will be based on goals based on Key result areas and t achievement
Opening...
Department

MARKETING

No. Of Vacancies

3 (MALE/FEMALE)

Location

Rajkot

Qualification

MBA/B.COM With 3 years of experience

Job Description

Responsibilities:

- Responsible for the Sales activities of the Company.

- Communicate to customers / users to create inquiry for regular products and quote for the same.

- Followup to achieve orders and promote sales activities.

- Followup the delivery of materials up-to the clients end.

- Responsible for collection of payment and necessary documents.

- Reporting to Director of Sales and take suggestion for improvement of activities

- Upkeep of Client focus, communication, complain,requirements and delivery and post delivery service.

Required Experience

3 years as Marketing Officer